Cookie preferences
This website uses cookies, which are necessary for the technical operation of the website and are always set. Other cookies, which increase the comfort when using this website, are used for direct advertising or to facilitate interaction with other websites and social networks, are only set with your consent.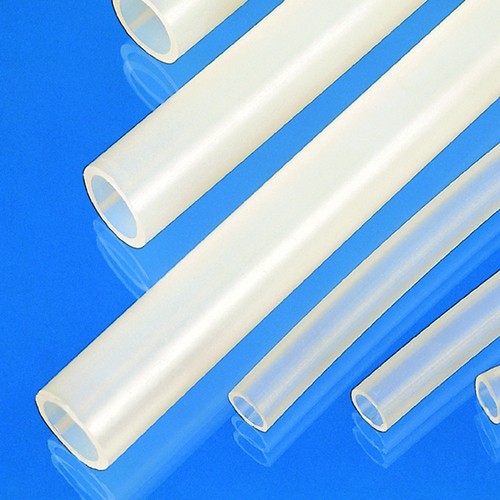 Application area Highly resistant chemical tubing for extreme mechanical and thermal loads....
more
Application area
Highly resistant chemical tubing for extreme mechanical and thermal loads. Possible fields of application: chemical analytics, environmental and hygiene technology, biotechnology, semiconductor technology.
In these areas the tubing is used as chemical tubing for super-clean analytics, highly loadable industrial tubing in pilot plants of process engineering and biotechnology, highly resistant chemical tubing for super-clean acids in semiconductor technology.
Product specification
Chemical resistance: MFA (modified fluoroalkoxy) is a newly developed fluorinated plastic. It has a very good resistance to most aggressive media, such as inorganic alkalis, oxidizing acids, mineral acids, metal salt solutions, but also organic media including hydrocarbons, anhydrides, ester, ether, ketones, aromatics, amines, peroxides. At high temperatures MFA has only a limited resistance to alkali metals. Also certain organic fluorine halogen and phosphorus compounds are not suitable for high temperature application with MFA.
High dimension tolerance.
Extremely smooth inside and outside surface, therefore minimal deposits of foreign matters.
Higher transparency than PTFE, FEP or PFA. The high transparency covers the wavelength range from 390 to 770 nm (visual range) and 200 to 280 nm (UV-range).
Extremely low moisture absorption: water <0.03 %.
Non-oxidizing material, i.e. it burns while flame feeding, but stops burning immediately after removing the flame source.
High temperature and pressure resistance.
Lowest diffusion values amongst all fluorinated plastics, i.e. nearly gas-tight.
Outstanding thermal stability: thermogravimetric analysis (50 min. in air at +380 °C: weight loss <0.3%).
Very good mechanical stability from lowest temperatures up to +250 °C.
Lowest embrittlement phenomena at temperature load.
High stress crack resistance up to +240 °C.
Temperature aging: very good preservation of mechanical properties after 14 days at +240 °C.
Remarkably resistant also at long weathering.
Low dielectric constant.
Very high surface resistance and volume resistivity.
Volume resistivity, dielectric constant and loss factor independent of temperature.
Technical specification
Material: MFA (modified fluoroalkoxy)
Colour: crystal-clear
Shore hardness D: 59° (DIN 53505)
Temperature range: -70 to +240 °C
Melting temperature: +290 °C
Embrittlement temperature: -80 °C
Density: 2.14 g/cm3
Coefficient of friction dynamic against steel, dry: 0.1 - 0.2
Tearing strength: 28 - 36 N/mm2 at +23 °C; 15 - 21 N/mm2 at +150 °C; 6 - 8 N/mm2 at +250 °C
Dielectric constant: 2.0
Volume Resistivity: 1018 Ohm x cm
Surface resistance: 1017 Ohm
Regulations: made according to DIN EN ISO 9001, ASTM (American Society for testing and materials), MIL (Military Standard)
No additional information available.
Item
Image
Inside Ø

mm

Außen-Ø

mm

Wandstärke

mm

max. Betr.-Druck1

bar

Einheit

m

Price
Euro*
Buy
303276
1
3
1
26
5
84.00
303277
1
3
1
26
15
200.00
303278
1,5
2,5
0,5
12
5
71.00
303279
1,5
2,5
0,5
12
15
185.00
303280
1,5
3,5
1
20
5
103.00
303281
1,5
3,5
1
20
15
244.00
303282
2
3
0,5
10
5
90.00
303283
2
3
0,5
10
15
232.00
303284
2
4
1
17
5
122.00
303285
2
4
1
17
15
289.00
303286
2,5
3,5
0,5
8,5
5
99.00
303287
2,5
3,5
0,5
8,5
15
251.00
303288
2,5
4,5
1
14
5
135.00
303289
2,5
4,5
1
14
15
321.00
303290
3
4
0,5
7
5
114.00
303291
3
4
0,5
7
15
289.00
303292
3
5
1
13
5
152.00
303293
3
5
1
13
15
366.00
303294
3,5
4,5
0,5
6,5
5
95.00
303295
3,5
4,5
0,5
6,5
15
242.00
303296
3,5
5,5
1
11
5
135.00
303297
3,5
5,5
1
11
15
321.00
303298
4
5
0,5
5,5
5
105.00
303299
4
5
0,5
5,5
15
270.00
303300
4
6
1
10,5
5
148.00
303301
4
6
1
10,5
15
354.00
303302
4,5
5,5
0,5
5
5
120.00
303303
4,5
5,5
0,5
5
15
309.00
303304
4,5
6,5
1
9,5
5
163.00
303305
4,5
6,5
1
9,5
15
392.00
303306
5
6
0,5
4,5
5
133.00
303307
5
6
0,5
4,5
15
339.00
303308
5
7
1
8,5
5
178.00
303309
5
7
1
8,5
15
424.00
303310
5,5
6,5
0,5
4,3
5
146.00
303311
5,5
6,5
0,5
4,3
15
377.00
303312
5,5
7,5
1
8
5
193.00
303313
5,5
7,5
1
8
15
463.00
303314
6
7
0,5
4
5
161.00
303315
6
7
0,5
4
15
416.00
303316
6
8
1
7,5
5
206.00
303317
6
8
1
7,5
15
495.00
303318
6,5
7,5
0,5
3,5
5
174.00
303319
6,5
7,5
0,5
3,5
15
443.00
303320
6,5
8,5
1
7
5
225.00
303321
6,5
8,5
1
7
15
523.00
303322
7
8
0,5
3,5
5
185.00
303323
7
8
0,5
3,5
15
471.00
303324
7
9
1
6,5
5
238.00
303325
7
9
1
6,5
15
555.00
303326
7,5
8,5
0,5
3,2
5
195.00
303327
7,5
8,5
0,5
3,2
15
501.00
303328
7,5
9,5
1
6
5
253.00
303329
7,5
9,5
1
6
15
589.00
303330
8
9
0,5
3
5
210.00
303331
8
9
0,5
3
15
540.00
303332
8
10
1
5,7
5
266.00
303333
8
10
1
5,7
15
623.00
303334
8,5
9,5
0,5
2,8
5
221.00
303335
8,5
9,5
0,5
2,8
15
568.00
303336
8,5
10,5
1
5,4
5
285.00
303337
8,5
10,5
1
5,4
15
662.00
303338
9
10
0,5
2,6
5
234.00
303339
9
10
0,5
2,6
15
598.00
303340
9
11
1
5,2
5
313.00
303341
9
11
1
5,2
15
698.00
303342
9,5
10,5
0,5
2,5
5
244.00
303343
9,5
10,5
0,5
2,5
15
625.00
303344
9,5
11,5
1
4,9
5
345.00
303345
9,5
11,5
1
4,9
15
730.00
303348
10
12
1
4,8
5
292.00
303349
10
12
1
4,8
15
681.00
303350
12
13
0,5
2
5
287.00
303351
12
13
0,5
2
15
715.00
303352
12
14
1
4
5
345.00
303353
12
14
1
4
15
803.00
303354
14
15
0,5
1,7
5
334.00
303355
14
15
0,5
1,7
15
835.00
303356
14
16
1
3,4
5
396.00
303357
14
16
1
3,4
15
891.00
303358
16
17
0,5
1,5
5
373.00
303359
16
17
0,5
1,5
15
851.00
303360
16
18
1
3
5
401.00
303361
16
18
1
3
15
901.00
Accessories
Similar products