Cookie preferences
This website uses cookies, which are necessary for the technical operation of the website and are always set. Other cookies, which increase the comfort when using this website, are used for direct advertising or to facilitate interaction with other websites and social networks, are only set with your consent.
PFA Corrugated Pipe with smooth ends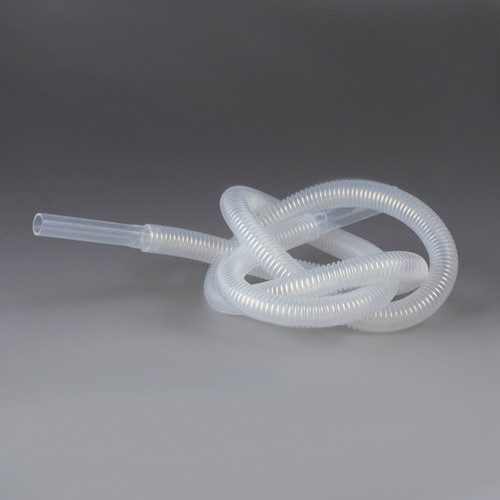 Product specification Flexible connections Extremely small bending radii guaranteed...
more
Product specification
Flexible connections
Extremely small bending radii guaranteed
Universal resistance to organic and anorganic media
Continuous mechanical movements may lead to increased wear of the bonded connection.
Ends fitted with cylindrical pieces allowing connection with THOMAFLUID® pipe connectors.
Technical specification
Material: PFA (perfluoroalkoxy)
Colour: translucent to clear
Temperature range: -270 to +260 °C
Density: 2.12 g/cm3
Tearing strength: 16 to 32 N/mm2
Tensile modulus: 200 to 800 N/mm2
Linear expansion coefficient: 1.2 to 1.7 x 10-5 x K-1
Thermal conductivity: 0.24 W/m * K
Dielectric strength: >20 kV/mm
Design: with cylindrical end pieces 40 mm length
General Information Transport of fluids of all kinds and qualities in laboratories and pilot...
more
General Information
Transport of fluids of all kinds and qualities in laboratories and pilot plants as well as in small production facilities.
Connecting tubing for equipment used in clean room technology, radiochemistry and chemical technology under extreme thermal and environmental conditions.
Flexible fluorocarbon tubing of high thermal, chemical and mechanical stability, free of extractable components. Small flow resistance and only slight tendency to adhesion of solid matter due to smooth inner surface with antiadhesive properties. Electrically non-conductive, resistant to aging even under unfavourable environmental conditions such as moisture, acid as well as solvent vapours, radioactive radiation and weather effects.
Chemically resistant to amines, aldehydes, carboxylic acids, esters of carboxylic acids, dioxane, halogenes, halogenated solvents, conc. mineral acids, nitric oxides, oxygen, sulfur dioxide, sulfur trioxide, carbon disulfide, hydrogen sulfide, hydrogen peroxide, aqueous salt solutions of any concentration and many other acids, lyes and solvents.
Chemical, thermal and dielectric properties virtually identical to those of PTFE, but suitable for thermoplastic processing (welding, injection moulding, deep-drawing).
In comparison to PTFE: Higher light transmission, hardness, mechanical strength and dimensional stability (reduced cold flow tendency). Lower diffusion of media (reduced permeability) and higher compaction due to the injection moulding process. However, reduced mechanical machinability.
Highest thermal resistance of all meltable fluoroplastics
Very high heat distortion resistance
Very high pressure resistance
Very high chemical resistance
Low friction coefficient
Excellent UV and weather resistance
Flame-resistant
Item
Image
NW

mm

I. D. end fitting

mm

Außen-Ø Endstück

mm

max. Betr.-Druck1

bar

min. Biegeradius

mm

Länge

m

Einheit

Stück

Price
Euro*
Buy
333939
4,5
2
4
1,7
5
0,5
1
119.00
333940
4,5
2
4
1,7
5
1
1
157.00
334200
4,5
2
4
1,7
5
2,5
1
236.00
12355
8
6
8
2
15
0,5
1
127.00
12356
8
6
8
2
15
1
1
167.00
334201
8
6
8
2
15
2,5
1
259.00
12357
10
8
10
2
18
0,5
1
135.00
12358
10
8
10
2
18
1
1
178.00
334202
10
8
10
2
18
2,5
1
277.00
12359
13
10
12
2
23
0,5
1
146.00
12360
13
10
12
2
23
1
1
202.00
334203
13
10
12
2
23
2,5
1
339.00
12361
14
12
14
2
25
0,5
1
155.00
12362
14
12
14
2
25
1
1
225.00
334204
14
12
14
2
25
2,5
1
396.00
12363
16
14
16
2
28
0,5
1
176.00
12364
16
14
16
2
28
1
1
242.00
334205
16
14
16
2
28
2,5
1
422.00
12367
19
16
18
2
32
0,5
1
242.00
12368
19
16
18
2
32
1
1
304.00
334206
19
16
18
2
32
2,5
1
572.00
12369
21
18
20
2
35
0,5
1
242.00
12370
21
18
20
2
35
1
1
304.00
334207
21
18
20
2
35
2,5
1
668.00
334208
23
20,9
25,4
1,2
40
0,5
1
386.00
334209
23
20,9
25,4
1,2
40
1
1
488.00
334210
23
20,9
25,4
1,2
40
2,5
1
777.00