Cookie preferences
This website uses cookies, which are necessary for the technical operation of the website and are always set. Other cookies, which increase the comfort when using this website, are used for direct advertising or to facilitate interaction with other websites and social networks, are only set with your consent.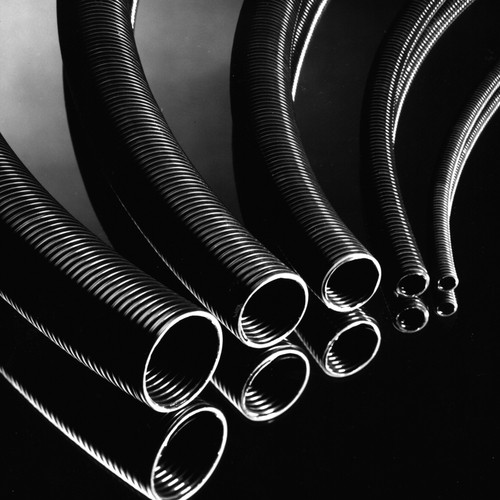 Application area Conveyance of liquid media up to +100 °C Conveyance of heat-exchanger...
more
Application area
Conveyance of liquid media up to +100 °C
Conveyance of heat-exchanger fluids
Used for protection of lines
In moving or vibrating systems or apparatuses
In construction of chemical equipment and plants
Product specification
Low-weighted, very flexible corrugated pipe made of PP, transparent or black dyed. Flexible, mechanically highly loadable, good temperature stability and resistance to thermal aging, favourable electric properties. Good chemical resistance to alkalis, acids, anorganic salt solutions, fuels, mineral oils and fats.
Unstable to aromatic and halogenated solvents and oxidants.
Technical specification
Material: PP (polypropylene)
Temperature range: -40 to +100 °C (DIN 53446)
Density: 0.90 to 0.92 g/cm3 (DIN 53479)
Protection Rating: IP68
Tearing strength: 20 - 45 N/mm2 (DIN 53455)
Elongation at break: >300 % (DIN 53455)
Tensile modulus: 700 - 1800 N/mm2 (DIN 53457)
Impact toughness: without break (DIN 53453)
Notch impact strength: 3 - 40 (DIN 53453)
Linear expansion coefficient: 1.7 - 1.8 x 10-4 x K-1 (DIN 52523)
Thermal conductivity: 0.22 - 0.26 W/m * K (DIN 52612)
Track resistance: KA3c (DIN 53480)
Dielectric strength: 70 - 90 kV/mm (DIN 53481)
Flammability rating: UL 94 HB
No additional information available.
Item
Image
NW

mm

Inside Ø

mm

Außen-Ø

mm

min. Biegeradius

mm

Farbe
Einheit

m

Price
Euro*
Buy
43268
10
10,1
12,9
20
natur
5
32.00
43269
10
10,1
12,9
20
natur
10
51.00
43270
10
10,1
12,9
20
natur
15
70.00
43277
13
12,7
15,8
25
natur
5
45.00
43278
13
12,7
15,8
25
natur
10
79.00
43279
13
12,7
15,8
25
natur
15
106.00
43289
4,5
4,7
7
10
schwarz
5
26.00
43290
4,5
4,7
7
10
schwarz
10
45.00
43291
4,5
4,7
7
10
schwarz
15
63.00
43292
7
6,9
9,9
13
schwarz
5
29.00
43293
7
6,9
9,9
13
schwarz
10
49.00
43294
7
6,9
9,9
13
schwarz
15
68.00
43295
8,5
8,4
11,4
15
schwarz
5
29.00
43296
8,5
8,4
11,4
15
schwarz
10
49.00
43297
8,5
8,4
11,4
15
schwarz
15
68.00
43298
10
10,1
12,9
20
schwarz
5
32.00
43299
10
10,1
12,9
20
schwarz
10
51.00
43300
10
10,1
12,9
20
schwarz
15
70.00
43304
11
11,6
15,7
25
schwarz
5
43.00
43305
11
11,6
15,7
25
schwarz
10
75.00
43306
11
11,6
15,7
25
schwarz
15
102.00
43307
12
12,5
15,6
30
schwarz
5
45.00
43308
12
12,5
15,6
30
schwarz
10
79.00
43309
12
12,5
15,6
30
schwarz
15
106.00
43310
14
14,2
18,5
40
schwarz
5
48.00
43311
14
14,2
18,5
40
schwarz
10
84.00
43312
14
14,2
18,5
40
schwarz
15
114.00
43313
16
14,9
18,9
40
schwarz
5
51.00
43314
16
14,9
18,9
40
schwarz
10
87.00
43315
16
14,9
18,9
40
schwarz
15
119.00
43316
17
16,8
21
45
schwarz
5
59.00
43317
17
16,8
21
45
schwarz
10
101.00
43318
17
16,8
21
45
schwarz
15
139.00