Cookie preferences
This website uses cookies, which are necessary for the technical operation of the website and are always set. Other cookies, which increase the comfort when using this website, are used for direct advertising or to facilitate interaction with other websites and social networks, are only set with your consent.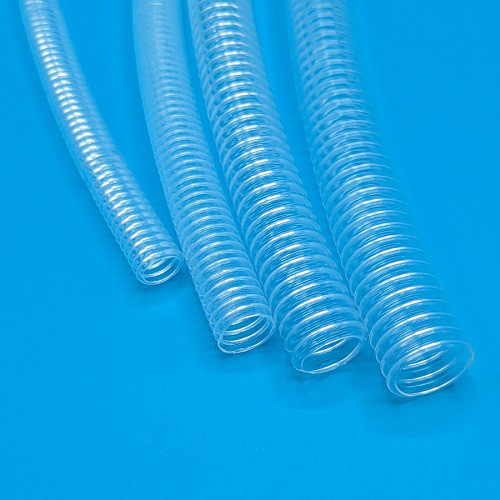 Application area Flexible connections at mobile and vibration-exposed equipments and...
more
Application area
Flexible connections at mobile and vibration-exposed equipments and aggregates in research and industry.
Product specification
Highly flexible, self-supporting and dimensionally stable corrugated pipe made of transparent perfluoroalkoxy copolymer PFA/TFA with circular waves concentrically arranged around the longitudinal axis.
Temperature loadable, radiation and weather resistant, chemically resistant also to corrosive materials and solvents, except to higher-halogenated hydrocarbons and aromatics; free of leachable constituents, biocompatible.
Technical specification
Material: PFA (perfluoroalkoxy)
Temperature range: -200 to +250 °C
Density: 2.12 - 2.17 g/cm3
Tearing strength: 15 - 32 N/mm2
Elongation at break: 200 - 400 %
Tensile modulus: 200 - 800 N/mm2
Linear expansion coefficient: 1.2 to 1.7 x 10-5 x K-1
Thermal conductivity: 0.22 - 0.25 W/m * K
Track resistance: KA3c
Dielectric strength: >20 kV/mm
General Information Transport of fluids of all kinds and qualities in laboratories and pilot...
more
General Information
Transport of fluids of all kinds and qualities in laboratories and pilot plants as well as in small production facilities.
Connecting tubing for equipment used in clean room technology, radiochemistry and chemical technology under extreme thermal and environmental conditions.
Flexible fluorocarbon tubing of high thermal, chemical and mechanical stability, free of extractable components. Small flow resistance and only slight tendency to adhesion of solid matter due to smooth inner surface with antiadhesive properties. Electrically non-conductive, resistant to aging even under unfavourable environmental conditions such as moisture, acid as well as solvent vapours, radioactive radiation and weather effects.
Chemically resistant to amines, aldehydes, carboxylic acids, esters of carboxylic acids, dioxane, halogenes, halogenated solvents, conc. mineral acids, nitric oxides, oxygen, sulfur dioxide, sulfur trioxide, carbon disulfide, hydrogen sulfide, hydrogen peroxide, aqueous salt solutions of any concentration and many other acids, lyes and solvents.
Chemical, thermal and dielectric properties virtually identical to those of PTFE, but suitable for thermoplastic processing (welding, injection moulding, deep-drawing).
In comparison to PTFE: Higher light transmission, hardness, mechanical strength and dimensional stability (reduced cold flow tendency). Lower diffusion of media (reduced permeability) and higher compaction due to the injection moulding process. However, reduced mechanical machinability.
Highest thermal resistance of all meltable fluoroplastics
Very high heat distortion resistance
Very high pressure resistance
Very high chemical resistance
Low friction coefficient
Excellent UV and weather resistance
Flame-resistant
Item
Image
NW

mm

Inside Ø

mm

Außen-Ø

mm

Wandstärke

mm

min. Biegeradius

mm

Einheit

m

Price
Euro*
Buy
48286
8
7,7
10,7
2,2
15
1
69.00
48287
8
7,7
10,7
2,2
15
5
197.00
48288
8
7,7
10,7
2,2
15
10
323.00
48289
10
9,8
13
2,2
18
1
76.00
48290
10
9,8
13
2,2
18
5
212.00
48291
10
9,8
13
2,2
18
10
348.00
48292
13
12,4
16,1
3,1
23
1
103.00
48293
13
12,4
16,1
3,1
23
5
294.00
48294
13
12,4
16,1
3,1
23
10
484.00
48295
14
13,7
17,8
3,1
25
1
116.00
48296
14
13,7
17,8
3,1
25
5
331.00
48297
14
13,7
17,8
3,1
25
10
547.00
48298
16
15,4
19,7
3,1
28
1
146.00
48299
16
15,4
19,7
3,1
28
5
414.00
48300
16
15,4
19,7
3,1
28
10
682.00
48301
17
16,5
21,1
3,5
30
1
146.00
48302
17
16,5
21,1
3,5
30
5
414.00
48303
18
18,4
23,1
3,5
32
1
162.00
48304
18
18,4
23,1
3,5
32
5
460.00
48305
21
19,8
24,8
3,5
35
1
176.00
48306
21
19,8
24,8
3,5
35
5
497.00