Cookie preferences
This website uses cookies, which are necessary for the technical operation of the website and are always set. Other cookies, which increase the comfort when using this website, are used for direct advertising or to facilitate interaction with other websites and social networks, are only set with your consent.
Straight Pipe Screwed Fitting with Male Thread made of Stainless Steel for metric pipes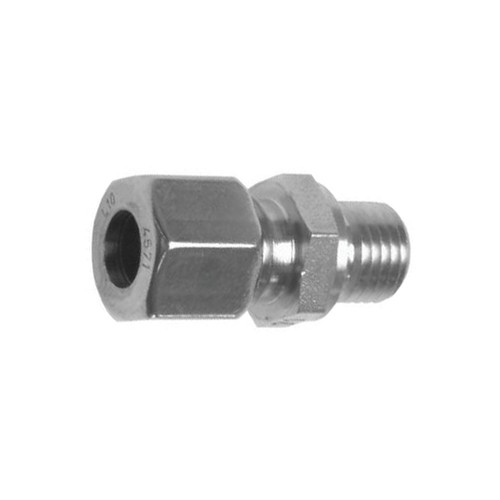 Product specification G-, R-, or M- external thread on the one side metric pipe connecton on...
more
Product specification
G-, R-, or M- external thread on the one side metric pipe connecton on the other side
Resists dynamic loads such as vibrations and pulsations
Can be loosened and screwed back as often as you like
Due to a silver coating a lubrication of the nut thread during initial assembly is not necessary
Required pipe quality: heat treated, seamless stainless steel pipes (1.4571) according to DIN EN ISO 1127 with tolerance class D4 / T3, the hardness should not be more than Rockwell HRB 90.
Technical specification
Material: stainless steel 1.4571
Temperature range: -60 to +400 °C
Vakuumhermeticity: Q <108 mbar l/s
Regulations: DIN EN ISO 8434-1 (DIN 2353)
General information cutting ring fittings Application area Gas- and water applications,...
more
General information cutting ring fittings
Application area
Gas- and water applications, chemical and petrochemical apparatus and plant construction, pharmaceutical industry, paper- and plastics industry, harbour- and Watergates, shipbuilding, aviation, offshore- plant construction, measuring and control technology, hydraulic systems with increased corrosive stress.
Product specification
Cutting ring tube fittings according to EN ISO 8434-1 / DIN 2353 serve as positive and non-positive high pressure connections.
When the union nut is tightened, the hardened cutting ring tapers and cuts into the tube. A clearly visible bead is created in front of the cutting edge. For a correct seating of the cutting ring, it is important that the tube, which is cut off at right angles, lies against the cone stop.
In the final phase of the cutting process, the angle of the cutting edge causes the cutting point on the pipe to be work hardened. Due to the design of the cutting ring, the cutting depth is limited and thus prevents pipes with thin walls from being cut through.
The cutting ring screw connection can be loosened and re-installed as often as required.
Assembly
1. Saw off the pipe at right angles and lightly deburr inside and out and clean it at all. Do not use pipe cutters. For thin-walled or soft tubes use a reinforcing sleeve.
2. Lubricate thread and cone of nozzle, union nut inside and cutting ring with care.
3. Put the union nut and cutting ring onto the pipe. Pay attention to the correct position of the cutting ring - otherwise incorrect assembly.
4. Turn the union nut as far as possible by hand. Mark the union nut to check the prescribed turns. Press tube into cone until stop. Tighten union nut with wrench approx. 1 turn. Tube must not rotate.
5. To check the assembly, loosen the union nut. The raised pipe material must cover the front cutting ring surface. If not, follow suit easily. Due to the resilience of the cutting ring this can still turn - no malfunction.
6. Final assembly: Mount the union nut on the connection piece until there is a noticeable increase in force. Then tighten with 1/4 - 1/2 turn (compression fitting).
Attention
Assembly of stainless steel fittings only with the aid of suitable lubricants.
For repeated assembly and disassembly there is a mounting paste on request.
Item
Image
Pipe outside Ø

mm

Außengewinde
max. Betr.-Druck1

bar

Einheit

Stück

Price
Euro*
Buy
54395
4
M8 x 1
100
1
45.00
54396
4
R 1/8"
100
1
48.00
54397
6
M8 x 1
100
1
59.00
54398
6
M10 x 1
100
1
51.00
54399
6
M10 x 1
315
1
37.00
54400
6
M12 x 1,5
630
1
64.00
54401
6
M14 x 1,5
630
1
60.00
54402
6
G 1/8"
315
1
35.00
54403
6
G 1/4"
315
1
55.00
54404
6
G 1/4"
630
1
45.00
54405
6
G 3/8"
315
1
79.00
54406
6
R 1/8"
100
1
49.00
54407
6
R 1/8"
315
1
63.00
54408
6
R 1/4"
315
1
72.00
54409
6
R 1/4"
630
1
75.00
54410
6
R 3/8"
315
1
75.00
54411
6
R 1/2"
315
1
99.00
54412
8
M10 x 1
100
1
58.00
54413
8
M12 x 1,5
315
1
41.00
54414
8
M14 x 1,5
630
1
70.00
54415
8
G 1/8"
315
1
44.00
54416
8
G 1/4"
315
1
39.00
54417
8
G 1/4"
630
1
53.00
54418
8
G 3/8"
315
1
58.00
54419
8
G 3/8"
630
1
68.00
54420
8
G 1/2"
315
1
78.00
54421
8
R 1/8"
100
1
51.00
54422
8
R 1/4"
100
1
61.00
54423
8
R 1/4"
315
1
65.00
54424
8
R 1/4"
630
1
82.00
54425
8
R 3/8"
315
1
78.00
54426
8
R 1/2"
315
1
112.00
54427
10
M12 x 1,5
315
1
52.00
54428
10
M14 x 1,5
315
1
43.00
54429
10
M16 x 1,5
315
1
61.00
54430
10
M16 x 1,5
630
1
78.00
54431
10
M18 x 1,5
315
1
67.00
54432
10
G 1/4"
315
1
43.00
54433
10
G 1/4"
630
1
71.00
54434
10
G 3/8"
315
1
74.00
54435
10
G 3/8"
630
1
69.00
54436
10
G 1/2"
315
1
81.00
54437
10
G 1/2"
630
1
100.00
54438
10
R 1/4"
315
1
79.00
54439
10
R 1/4"
630
1
95.00
54440
10
R 3/8"
315
1
79.00
54441
10
R 3/8"
630
1
98.00
54442
10
R 1/2"
315
1
112.00
54443
12
M14 x 1,5
315
1
69.00
54444
12
M14 x 1,5
630
1
97.00
54445
12
M16 x 1,5
315
1
57.00
54446
12
M18 x 1,5
315
1
83.00
54447
12
M18 x 1,5
630
1
84.00
54448
12
M22 x 1,5
315
1
126.00
54449
12
G 1/8"
315
1
58.00
54450
12
G 1/4"
315
1
67.00
54451
12
G 1/4"
630
1
81.00
54452
12
G 3/8"
315
1
51.00
54453
12
G 3/8"
630
1
75.00
54454
12
G 1/2"
315
1
84.00
54455
12
G 1/2"
630
1
107.00
54456
12
G 3/4"
315
1
93.00
54457
12
R 1/4"
315
1
79.00
54458
12
R 1/4"
630
1
112.00
54459
12
R 3/8"
315
1
94.00
54460
12
R 3/8"
630
1
107.00
54461
12
R 1/2"
315
1
87.00
54462
12
R 1/2"
630
1
112.00
54463
14
M20 x 1,5
630
1
98.00
54464
14
G 1/2"
630
1
105.00
54465
14
R 1/2"
630
1
131.00
54466
15
M18 x 1,5
315
1
76.00
54467
15
M22 x 1,5
315
1
121.00
54468
15
G 3/8"
315
1
89.00
54469
15
G 1/2"
315
1
73.00
54470
15
G 3/4"
315
1
133.00
54471
15
R 3/8"
315
1
113.00
54472
15
R 1/2"
315
1
124.00
54473
16
M22 x 1,5
400
1
97.00
54474
16
G 3/8"
400
1
104.00
54475
16
G 1/2"
400
1
110.00
54476
16
G 3/4"
400
1
121.00
54477
16
R 1/2"
400
1
149.00
54478
18
M18 x 1,5
315
1
130.00
54479
18
M22 x 1,5
315
1
109.00
54480
18
G 3/8"
315
1
113.00
54481
18
G 1/2"
315
1
98.00
54482
18
G 3/4"
315
1
144.00
54483
18
R 1/2"
315
1
172.00
54484
20
M27 x 2
400
1
165.00
54485
20
G 1/2"
400
1
165.00
54486
20
G 3/4"
400
1
141.00
54487
20
R 3/4"
400
1
188.00
54488
22
M26 x 1,5
160
1
143.00
54489
22
G 3/8"
160
1
157.00
54490
22
G 1/2"
160
1
155.00
54491
22
G 3/4"
160
1
131.00
54492
22
G 1"
160
1
210.00
54493
22
R 3/4"
160
1
209.00
Accessories
Similar products