Cookie preferences
This website uses cookies, which are necessary for the technical operation of the website and are always set. Other cookies, which increase the comfort when using this website, are used for direct advertising or to facilitate interaction with other websites and social networks, are only set with your consent.
Turbine Flowmeters - Digital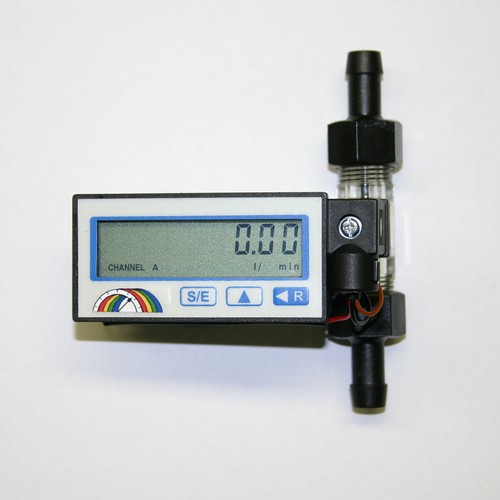 Application area Laboratory technology, analytical technology, pilot plant technology,...
more
Application area
Laboratory technology, analytical technology, pilot plant technology, sanitary engineering, tank monitoring
Product specification
Flowmeters meeting highest requirements, with integrated digital indicator
Indication of the instantaneous value and the already passed volume
Resistant to most aqueous chemicals
Functional principle: The rotor in the flowmeter is rotated by the medium to be measured. A Hall sensor scans the rotor and produces, according to the flow rate, a frequency signal which is evaluated and digitally displayed.
Accessories: high-tech screw-on connectors items 303671, 303675, 303679 and 341770-341772
Technical specification
Material:
Housing: PA 12 (polyamide 12)
Rotor: PA 12 (polyamide 12), ferrite
Bearing: PTFE (polytetrafluoroethylene), graphite
Measuring range: 0.1 - 25 l/min.
Media characteristic: liquid free of foreign matters; filtration at suspended matter size of approx. 20 to 30 microns recommended
Max. operating pressure: 25 bar
Bursting pressure: 200 bar
Temperature range: -20 to +100 °C
Accuracy of measurement: ±3 % of instantaneous value
Repeatability: better than 0.5 %
Viscosity: up to approx. 15 cSt
Electr. connection: pin plate with 3 contact pins 2.8 x 0.5, matching female connector EN 60 529
Power consumption: 9 - 24 V=
Amperage: approx. 8 mA
Output signal: frequency open collector (NPN sinking)
Output current: max. 20 mA
Connection: external thread G 3/8" or G 1/4"
Regulations: all media-contacting materials have the KTW approval
No additional information available.
Item
Image
NW

mm

Measuring range liquids1

l/min.

Impulse
Frequenz

Hz

Außengewinde
Einheit

Stück

Δp bei 0,5 l/min.1

bar

Δp bei 2 l/min.1

bar

Δp bei 10 l/min.1

bar

Δp bei 20 l/min.1

bar

Δp bei 30 l/min.1

bar

Price
Euro*
Buy
341782
8
2 - 35
700
23 - 408
G 3/8"
1
0
0
0,15
0,45
0,92
600.00
341783
8
1,5 - 25
1000
25 - 416
G 3/8"
1
0
0
0,17
0,48
600.00
341784
8
1 - 15
2200
37 - 550
G 3/8"
1
0
0
0,2
600.00
341785
6
1 - 10
3300
55 - 550
G 3/8"
1
0
0,05
0,4
600.00
341786
8
0,5 - 7,5
4700
38 - 575
G 3/8"
1
0
0
0,4
600.00
341787
6
0,5 - 5
6900
38 - 575
G 3/8"
1
0
0,06
0,7
600.00
341788
5
0,1 - 2,5
20000
42 - 833
G 1/4"
1
0,02
0,25
722.00