Cookie preferences
This website uses cookies, which are necessary for the technical operation of the website and are always set. Other cookies, which increase the comfort when using this website, are used for direct advertising or to facilitate interaction with other websites and social networks, are only set with your consent.
High-Pressure Column made of Glass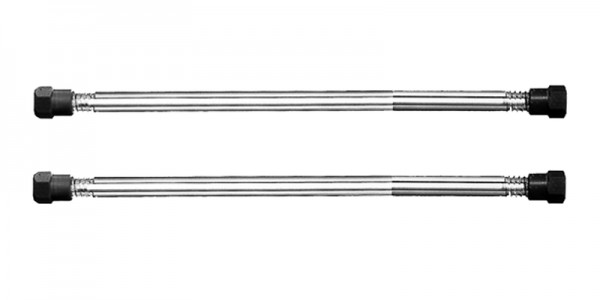 Product specification MULTCHROM-HG-columns impress by their simplicity and are outstandingly...
more
Product specification
MULTCHROM-HG-columns impress by their simplicity and are outstandingly suitable for rapid liquid chromatography. A small number of MULTICHROM-HG-columns with different packings can be easily kept on hand to determine optimal experimental conditions in no time. For temperature control of the columns a temper jacket with rubber stoppers can simply be slipped on. The columns are suited for all solvents, for pressures up to 50 bar and temperatures up to +100 °C. For preliminary testing and analytical purposes the size zero, for preparative purposes the sizes 2 and 4 are used. The complete MULTICHROM-HG-columns are supplied with screw caps, seals, glass wool and 3 m polyethylene tubing.
General Information A series of chromatography columns in eight different sizes for...
more
General Information
A series of chromatography columns in eight different sizes for analytical and preparative purposes. The glass bodies are made of borosilicate glass, flange-connected on both sides, and bear fixedly two caps with the sealing O-rings belonging to it. Caps with the largest diameters of 75 and 100 mm resp. have threaded bolts made of V2A and are screwed with nuts to the end plates. Caps and end plates of smaller sizes are screwed together with threads. In this case the caps bear the sealing rings of the cooling jacket. The collars of the cooling jacket fit tightly on the sealing rings of the cooling jacket. Is no cooling jacket mounted, the sealing rings serve as shock absorbers to avoid break when the column is put down on the laboratory desk. Diameters of 75 mm and 100 mm resp. are not supplied with cooling jacket. For temperature control the use of Calorex heat-exchange and cooling tubing (item 93168) is recommended.
The bottom end plates bear a PTFE fabric with a mesh size of approx. 10 µm as support for the adsorbent material. The fabric is fixed by means of a locking ring and is placed on a PTFE grid of larger mesh size. In this grid the fluid flows with minimum dead volume to the capillary bore of the end plate.
The column end plates have thread bores for accommodation of MULTICHROM connections, the upper end plate having an additional one for the bleed screw. The central bore has an internal diameter of 1.0 mm.
The fluid contacting parts of the column, the top and bottom ends, are usually made of PVC. For use with liquids, to which these materials are not resistant, ends made of PTFE are to be used. Therefore, only these two exchange parts are required for resetting of the column, and already with the usual caps made of PVC a substantial solvent resistance is obtained. When working for a longer time with media particularly aggressive to PVC, such as chloroform, dimethylformamide etc, the glass bodies with caps made of stainless steel, PTFE or PP have to be used.
We strongly emphasize that standard seals are made of the materials FPM and NBR. It is possible to substitute certain seals for those made the material FFKM. The THOMACHROM® system with its many combinations offers appropriate instrumental solutions for pressures up to 15 bar and for all solvents, particularly for preparative purposes.
Item
Image
Size
Inside Ø column

mm

Länge

mm

Volumen

ml

max. Betr.-Druck1

bar

Einheit

Stück

Price
Euro*
Buy
937003
0
3,4
320
2,2
50
1
253.00
937006
0
3,4
620
4,5
50
1
373.00
9370010
0
3,4
1.040
7,7
45
1
466.00
937023
2
9
340
17
40
1
228.00
937026
2
9
640
36
35
1
236.00
9370210
2
9
1.040
63
25
1
253.00
937043
4
20
340
82
20
1
248.00
937046
4
20
640
175
10
1
253.00
9370410
4
20
1.040
300
4
1
272.00
Accessories
Similar products